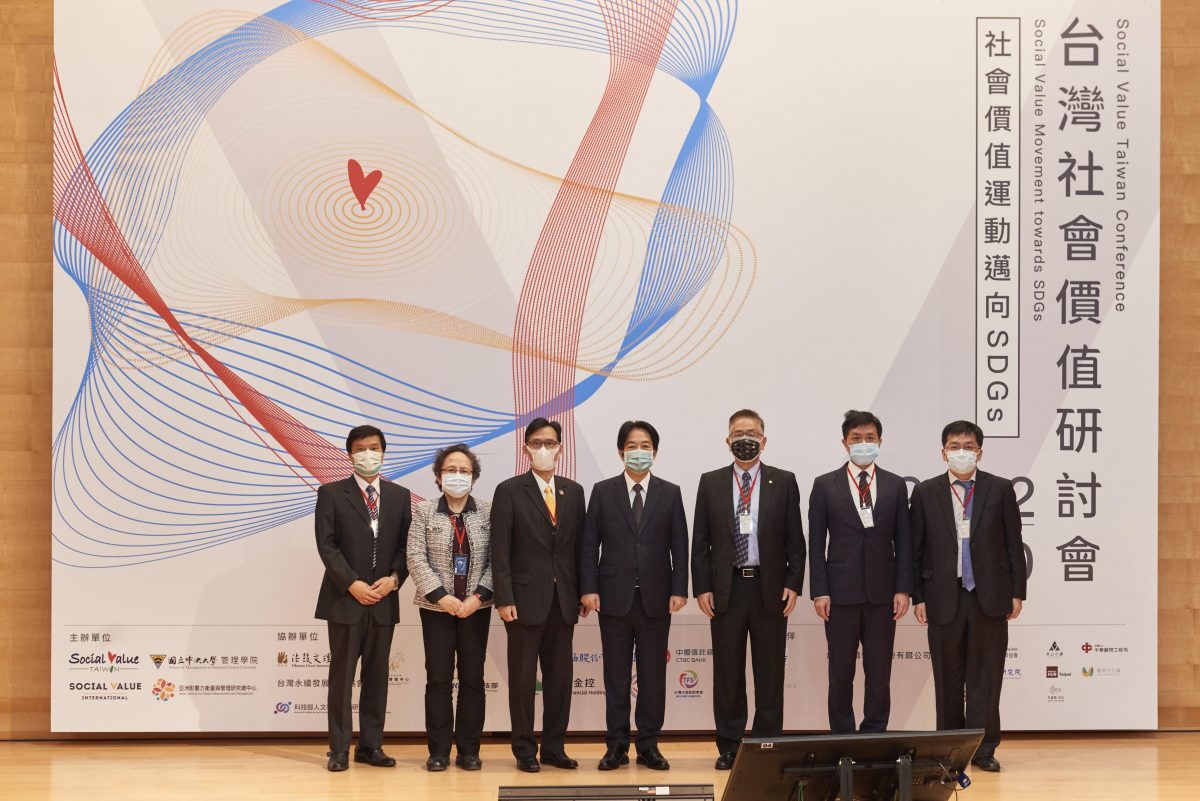 2022 Social Value Taiwan Conference
Social Value Taiwan (SVTW), Social Value International, Asian Institute for Impact Measurement and Management (AIIMM), together National Central University, jointly held the 2022 Taiwan Social Value Conference on April 20th in Taipei. The theme was "Social Movement towards SDGs." This event attracted hundreds of business representatives, scholars, and experts. The Vice President of the Republic of China, Lai Ching-te, in his opening remark, praised efforts to promote social value initiatives toward Sustainable Development Goals (SDGs). Chiayuan Wu, Chairman of the SVTW, contends that in the past six years, commitments and attention from all parts of Taiwan's society to social impact were impressive and thus expressed optimism about the rapid growth of this new field in the future.
To address environmental, social, and governance and sustainability demands, Chairman Chiayuan Wu and Ben Carpenter, CEO of SVI, jointly announced four major plans in Taiwan this year. Firstly, SVTW will be officially recognized as the SVI's "Assurance Center" in Asia. Secondly, SVTW together with the SVI and the United Nations Development Programme (UNDP), will introduce the SDG Impact Standards and international certification mechanisms in Taiwan. This introduction helps Taiwan share standards with international organizations and capital markets. Thirdly, SVTW will officially initiate the Train-the-trainer program for accredited practitioners in Taiwan in order to cultivate local trainers to deliver Mandarin trainings in Taiwan. Finally, SVI will set up an Asian Regional Center in Taipei while the Asian Regional Alliance includes Taiwan, Japan, South Korea, Hong Kong, Indonesia, Thailand, India, and Arabia. In addition, to address Taiwanese enterprises' urgent needs for practical and verifiable action plans while endeavouring to reach SVTW has been officially authorized to introduce the UNDP SDG Impact Standards into Taiwan.
Ben Carpenter, CEO of the SVI, announced several vital messages through an online speech, including that SVI will set up an Asian regional center and an accreditation center in Taipei, and the Taiwan will be the UNDP's entrusted representative to introduce the SDG Impact Standards into Taiwan.
Besides affirmative remarks, Vice President Lai emphasized that many policies by the Executive Yuan received support from legislators regardless of party affiliation. Coupled with establishing several business alliances, the pursuit of sustainable development has become a consensus. Under this context, promoting social impact measurement and management is meaningful and will undoubtedly contribute in the long run.
Tsuey-Ling Hsiao, Vice-Chairperson of the Financial Supervisory Commission, also shared Taiwan's current policies on sustainable finance, Environmental, Social, and Governance (E.S.G.) and corporate governance. In addition, she highlighted listed companies' obligation to submit third-party verified reports under the current institutional context.
The one-day seminar includes two keynote speeches and six practical and academic forums. The first keynote speaker was Adam Richards, Director of International Influence of the Social Value U.K., who shared his understanding of how organizations maximize value. Jeremy Nicholls, the second keynote speaker, introduced the UNDP SDGs Impact Standards on behalf of the prime certification framework leader.
In order to expand impacts without geographical constraint due to the pandemic, SVTW hold this conference both online and onsite, which successfully gathered many influential speakers in diverse fields, including domestic industry practitioners, researchers, financial institutions, investers, impact investing professionals, sports industry, corporate social responsibility, and the public sector, etc. to share their experiences in impact measurement and management. This conference has set an crucial milestone for Taiwan to reach the SDGs.
SVTW will continue to plan and promote trainings, cultivate Taiwan's impact measurement and management professionals, accompany the industry, government and academia to develop courses for sustainability, accelerate equality, better sustainable environment, and transit economy in the future in Taiwan.