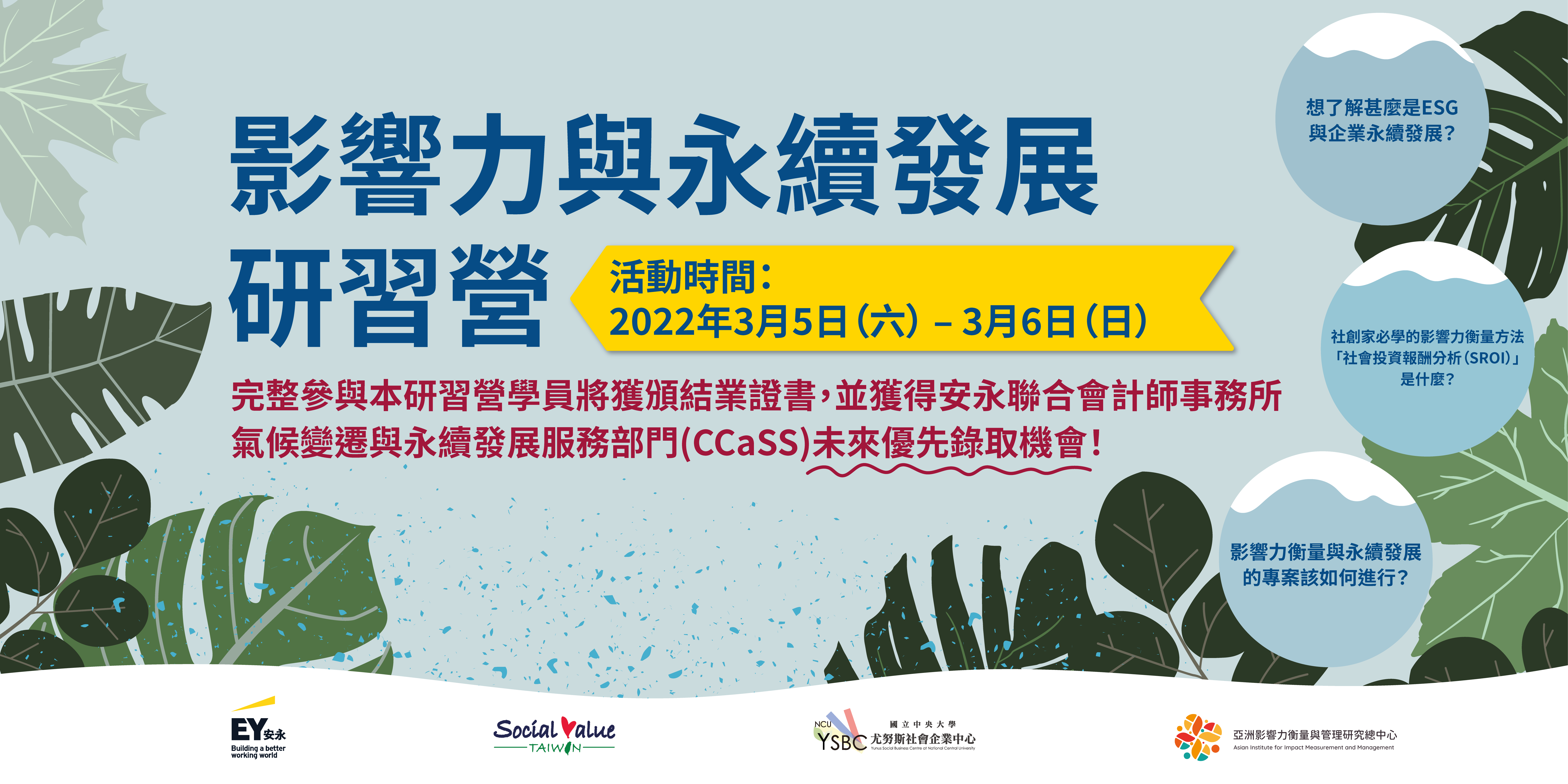 ESG trending on campus: National Central University promotes impact management and sustainability
The nationwide power outage incident on March 3, 2022 has sparked public concern over energy policy. From March 5 to 6, the "2022 Impact Management and Sustainability Camp" held at National Central University attracted more than 100 applicants from 23 universities across the country. Among them, one team consisting of 8 outstanding students received the championship from the judges with a proposal that focused on Energy Transition and the importance of building the Changfang & Xidao Offshore Wind Farms. The young generation's aspiration toward clean energy and sustainable development was evident in their presentation.
The 2-day intensive camp was co-organized by Asian Institute for Impact Measurement and Management of National Central University, Yunus Social Business Centre of National Central University, Ernst & Young, and Social Impact Institute of Taiwan. Out of over 100 applicants from 23 nationwide universities, including NTU, NTHU, NCKU, NCCU, NCU, and more, only 37 students were admitted to the camp.
The camp integrates issues of sustainability, ESG, impact measurement and management as well as Social Return on Investment (SROI), bringing about discussions on the latest trends, industrial know-how, and case studies. Keynote speakers and experts were invited to share their views on the two essential topics, sustainable development and social impact, putting forward relative practical actions as well as recent case analyses from domestic to international levels.
Professor Shen Chien-wen, director of Asian Institute for Impact Measurement and Management of National Central University, said that the future of social impact will head towards impact accounting. Social values are driven by government policy. Only with optimal governance can policy be in effect and transparent. It also requires proper management to verify and accomplish the goals of USR and ESG. Kai Lin Liu, secretary-general of Social Impact Institute of Taiwan, proposed that social impact is all about "change". Impact measurement means turning the abstract into the concrete, while an assessment should involve both positive and negative, intended and unintended outcomes, so as to conduct a holistic evaluation.
The course content is centered on 5 main themes ranging from Elderly Care, Underprivileged Groups Support, Circular Economy, Placemaking to Energy Transition. Participants were first divided into groups to practice with real-life cases and were then guided to present their investigation and evaluation on the second day. The top 3 awarded teams dealt with different social issues. One of which was concerned with Energy Transition. They used the construction of Changfang & Xidao Offshore Wind Farms to illustrate ESG-compliant industries and their endeavors in emission reduction. The second one focused on Placemaking, using AA1000 Stakeholder Engagement Standard to evaluate the Shen Nong Project. The last team is themed with Underprivileged Groups Support and they shared about the ecological storytelling camp in Yunlin, which strives to address educational inequality among disadvantaged students.